This article was originally published on GeekyUp
Even though he's now done with the MCU (or is he...), Robert Downey Jr. has been the foundation stone for the entire shared universe. It isn't just that the first Iron Man movie kicked off the MCU - he's been the central thread tying everything together. With that in mind, these are the best Tony Stark easter eggs found in Marvel movies - both his three standalone outings and all the rest.
Peter Parker's REAL debut in the MCU
Spider-Man fans waited for ages, hoping that they might some day see him join the Marvel Cinematic Universe. It finally happened when he cameoed in the epic airport fight in Captain America: Civil War. Um, actually, no - his debut was Iron Man 2. During the movie's climax, one of Justin Hammer's drones corners a boy wearing an Iron Man mask.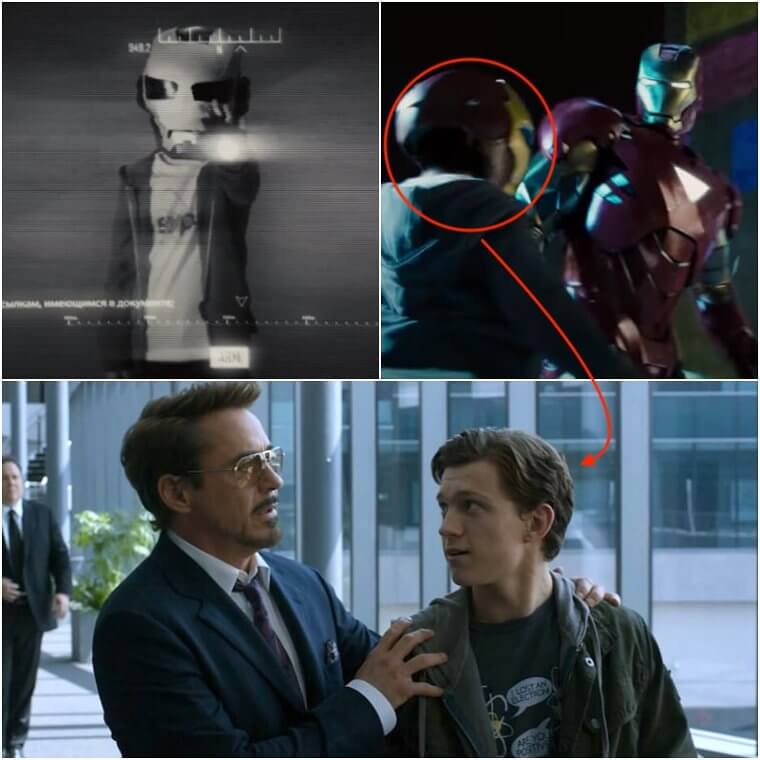 Instead of fleeing, the kid mans up - but luckily the real Tony swoops in to save him before it's too late. That kid? Peter Parker, as confirmed by Tom Holland himself. Extra fun fact - he was played by Max Favreau, director Jon Favreau's son.
Even superheroes gotta eat
Even though some of his co-stars, like the three Chrises (Evans, Hemsworth, and Pratt) resemble SUVs more than people, Robert Downey Jr. played a superhero while still looking more or less like a normal person. But that actually betrays the level of physical training he did to play Tony Stark - he put on 25 pounds of muscle!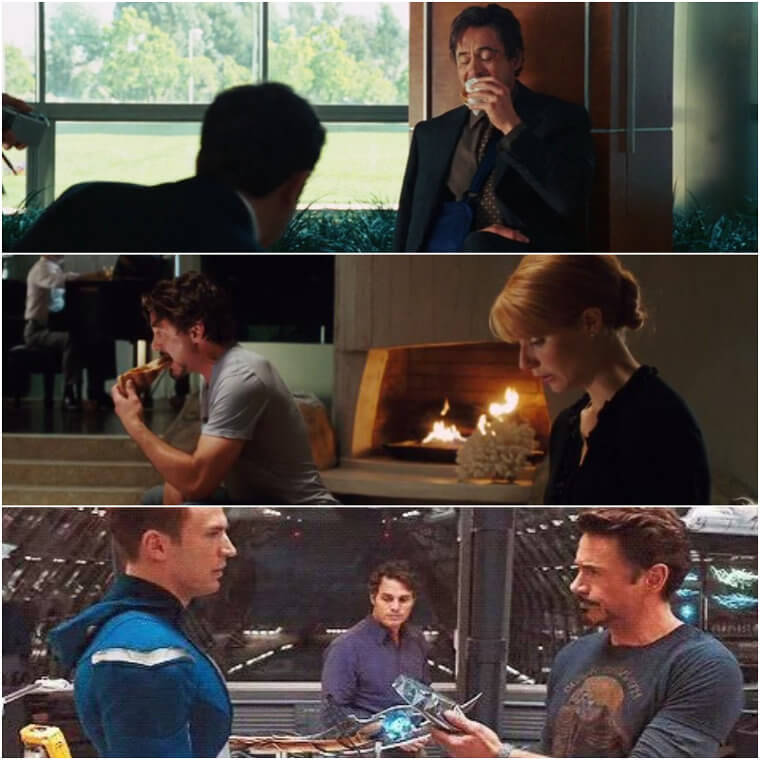 Now, sets like Marvel's are so busy that actors rarely have time to hit up craft services, so RDJ did the next best thing and just brought his own food on-set. Those blueberries he ate in Endgame? That wasn't in the script, that's just him being hungry.
The Stane abides
When Pepper Potts is going through Obadiah Stane's computer for evidence of his double-dealing in the first Iron Man, the screen's littered with minuscule references to Jeff Bridges's other huge role - the Dude in The Big Lebowski. There's reference to a vessel called the MSC Lebowski, as well as a barcode that reads, in part, "THE00DUDE."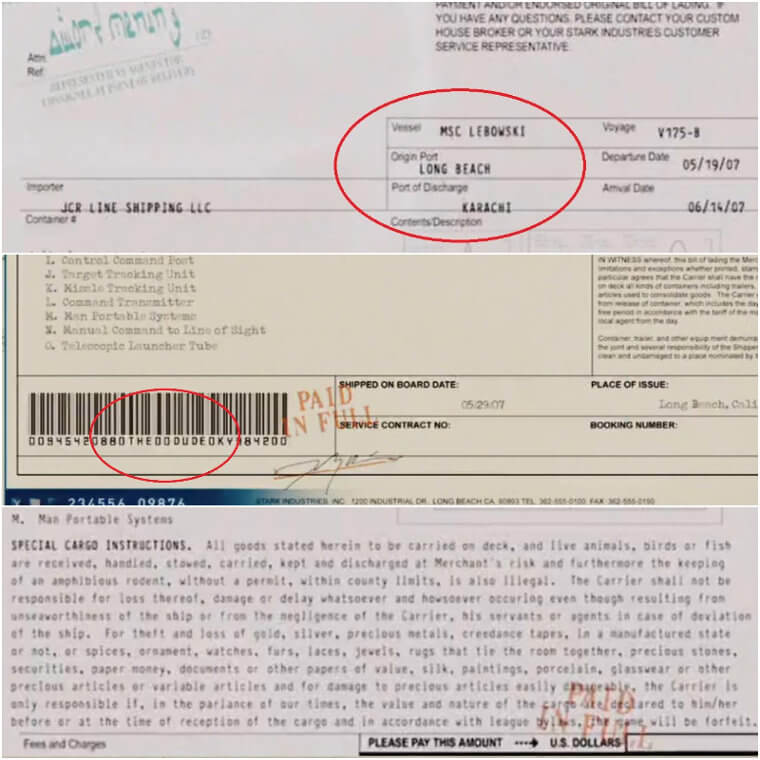 Even the small print, if you pause and squint hard enough, includes tons of allusions to the movie's most memorable lines, like "the keeping of an amphibious rodent, without a permit, within county limits, is also illegal" and "in accordance with league bylaws, the game will be forfeit."
He IS Iron Man, but no one expected that
Jeff Bridges called the first Iron Man movie a "$200 million student film," because it had virtually no script. Avengers: Endgame director Joe Russo, meanwhile, revealed that Robert Downey Jr. "will never say the same line twice." Combine both those facts, and you get the line that closed the movie - and kicked off a cinematic universe.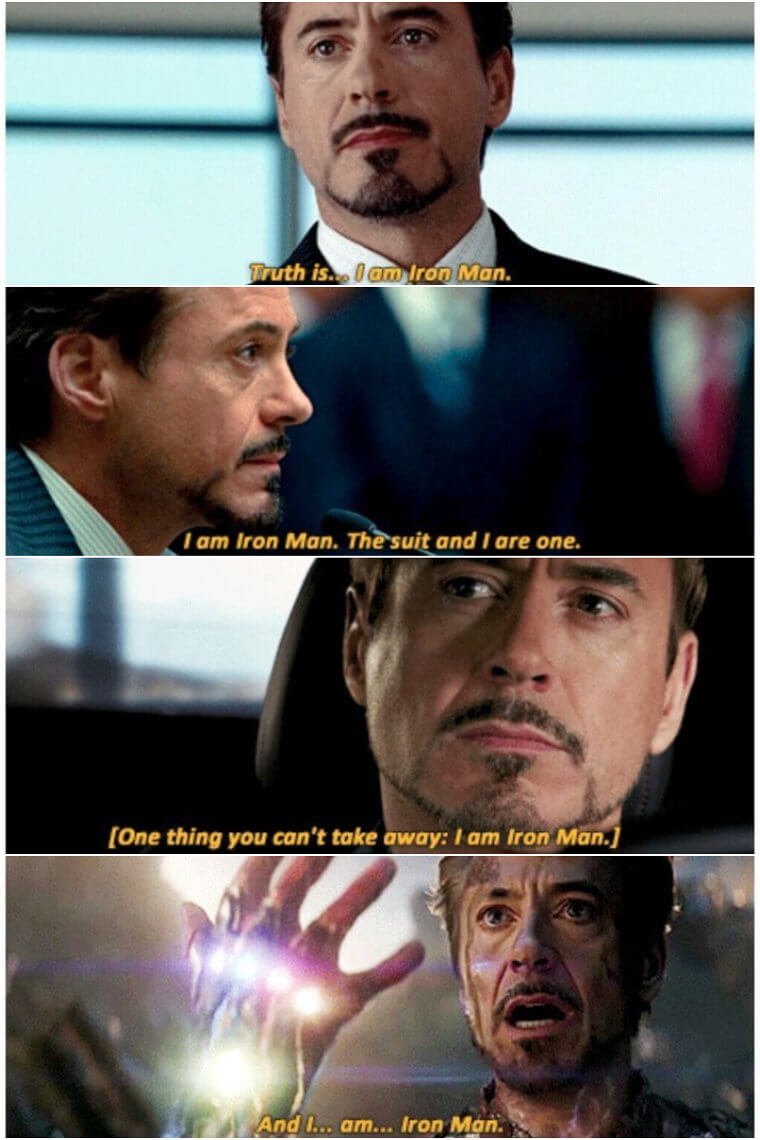 While we don't know what Iron Man's original ending was supposed to be, Marvel Studios boss Kevin Feige went on record to say that Downey Jr. ad-libbed "I am Iron Man," and it felt so true to the character that Marvel just changed how the movie ended.
Gratuitous product placement AND an easter egg? Must be our birthday!
Spider-Man: Far from Home has a premise to live up to, so it takes Peter Parker and his classmates on a two-week trip to Europe. This plot beat also allows the production to get paid, as the kids fly with United Airlines. Anyway, Peter sulks at another student putting the moves on M.J., and tries distracting himself by watching the in-flight entertainment.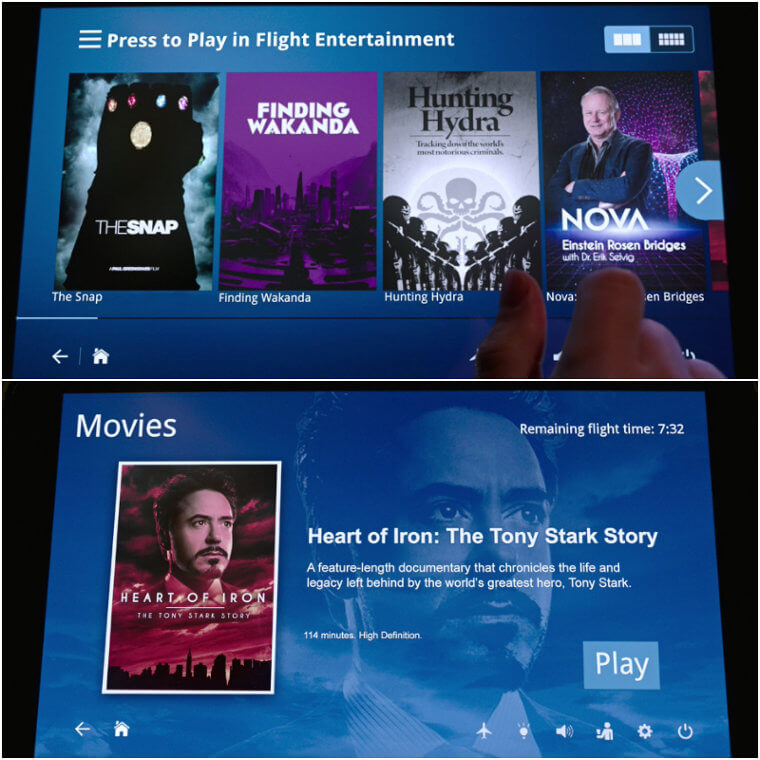 Examining the documentary category, he finds stuff like The Snap by Paul Greengrass, the real-life director who helmed based-on-true-events movies like United 93. He ends up settling on Heart of Iron: The Tony Stark Story, a movie released after Tony's sacrifice in Endgame.
RDJ's kids were the first to love him 3,000
With all the rush to tie up 11 years and 21 movies' worth of events with a single film, we won't fault anyone for missing the small, human moments in Avengers: Endgame. But they're totally there. Unsurprisingly, one of the better ones is supplied by Robert Downey Jr.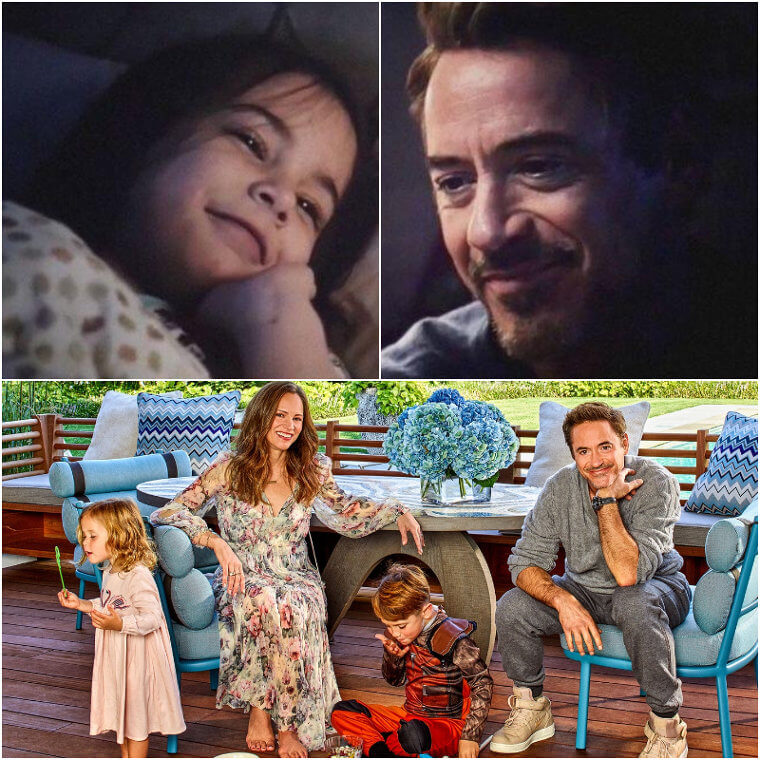 Saying good night to his daughter Morgan, Tony tells her, "Love you tons." She replies, "I love you 3,000." If the line sounds so real... it's because it was. Apparently, one of RDJ's kids once said that to him, and when he told directors the Russo brothers, they liked it so much they incorporated it into the script.
Tom Holland's stealthy tribute to RDJ
Some people's feathers were ruffled by the fact that Spider-Man was supposedly reduced to Iron Man's sidekick in his own movies. Keeping that particular Pandora's box closed for a moment, we think Peter Parker's unabashed fanboy enthusiasm for Tony Stark might actually be eclipsed by Tom Holland's similar feelings for Robert Downey Jr.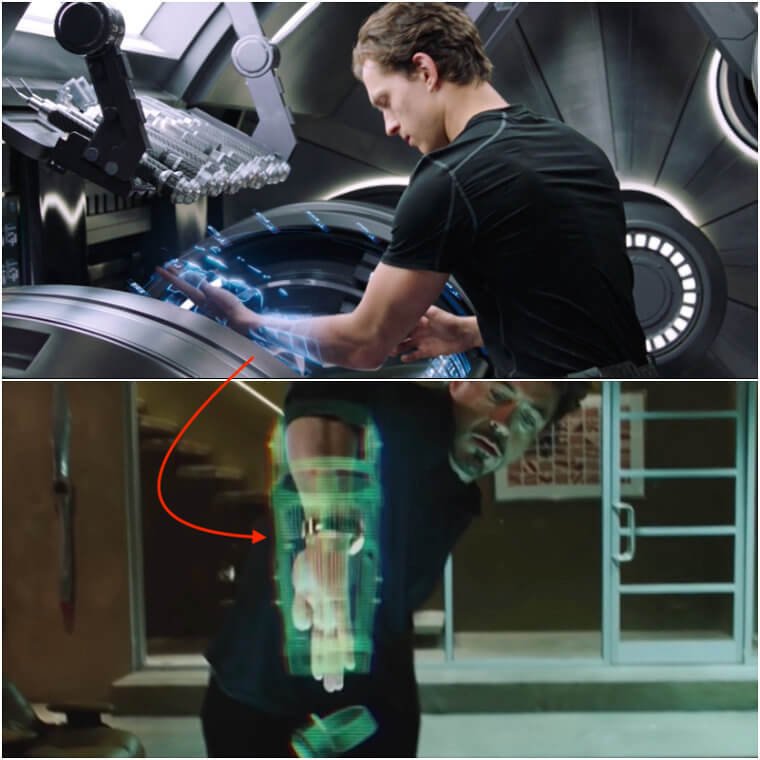 Spider-Man: Far from Home is filled with tributes to the now-deceased Tony, but the nicest one might be by Holland himself. The actor confirmed that in the scene when Peter designs his new suit, he mimicked RDJ's movements when he designed the Mark II suit in the first Iron Man movie.
Took him long enough to develop it...
Surprisingly, photos play a significant part in Tony's life. He was taking a photo with a soldier in the first Iron Man moments before being captured by terrorists, and eventually becoming Iron Man. Then, in Avengers: Endgame, his photo with Peter Parker and an upside down diploma inadvertently helps him crack the time travel conundrum (hilariously, Tom Holland had no idea the photo would be used for that).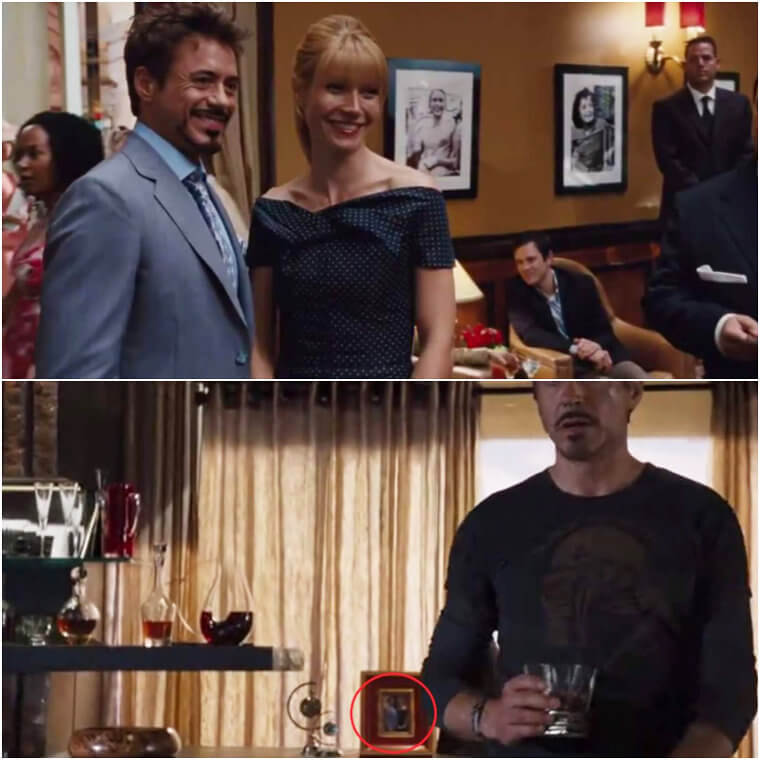 But one photography-related moment is just plain cool. In Iron Man 2, Tony poses for a picture with Pepper in Monaco. Then, during the climax to The Avengers, the very same photo can be seen framed in his Stark Tower office.
Happy anniversary to both of you
This one's from a deleted scene in Avengers: Infinity War, but it was too good not to include. After jogging in Central Park, Tony and Pepper talk about settling down. Tony even says that if they'll have a son, they'll name him after Pepper's eccentric uncle Morgan - which they really eventually did, though they had a daughter.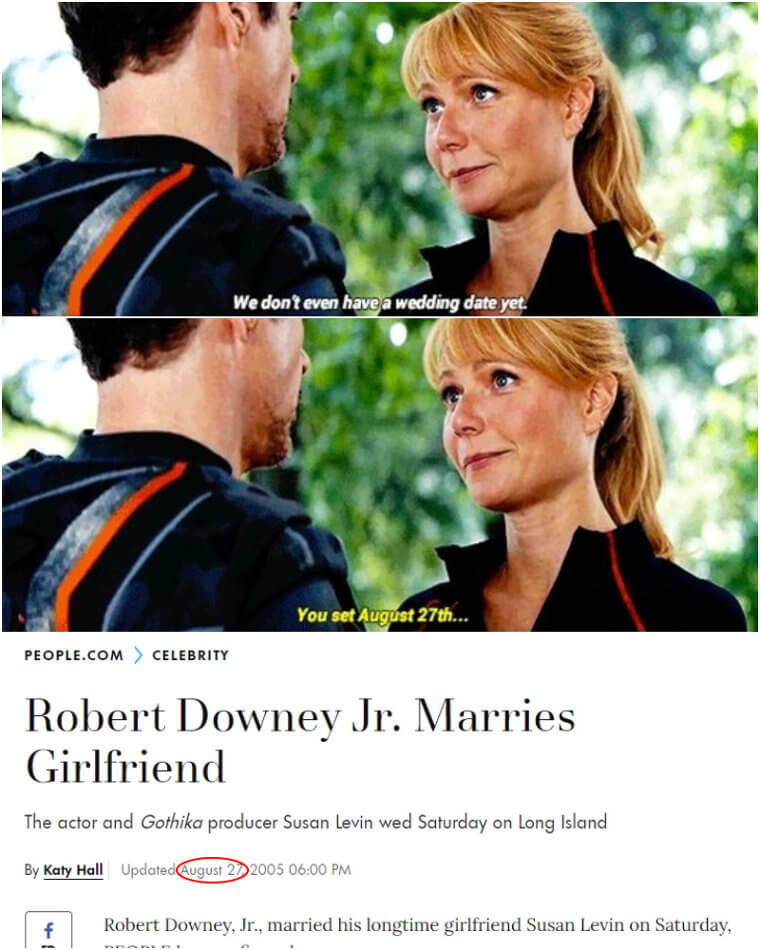 Then, they mention a "dummy wedding date" to throw the media off, and it's August 27. That just so happens to be the date Robert Downey Jr. married his longtime girlfriend, Susan. It's a beautiful melding of a character and the only actor we can imagine playing him.
The shawarma joint was there all along
In the annals of Marvel post-credit scenes, the one at the end of The Avengers is one of the best. You might know that the scene was actually filmed the day after the movie's world premiere, or even that it's based on an ad-lib by Robert Downey Jr. himself.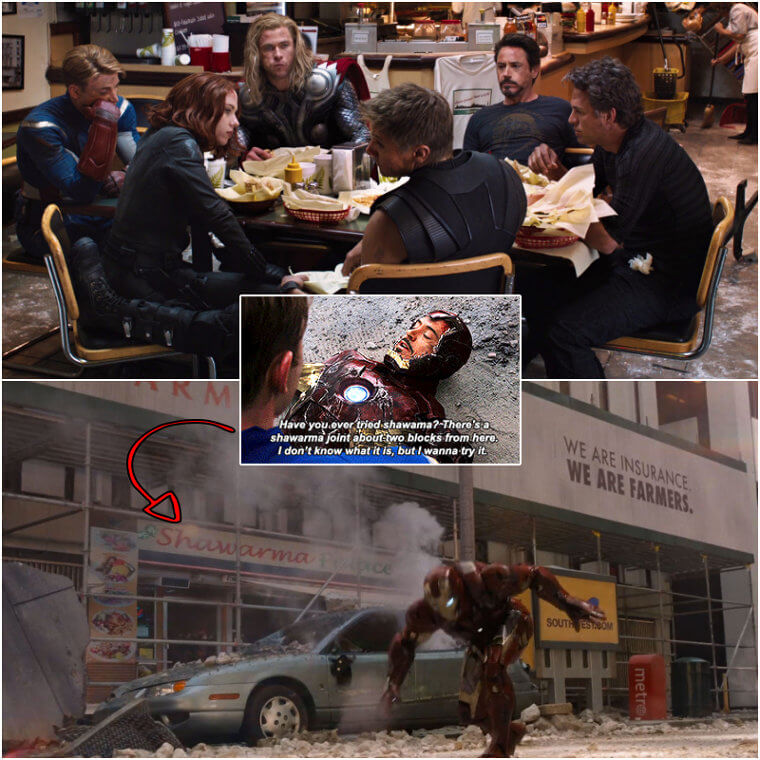 After nearly losing his life in the fight against the Chitauri, RDJ improvised the line about grabbing a shawarma after the battle. Here's the thing, though - in a blink-and-you-missed-it moment, you can see Iron Man DOES actually pass near a shawarma joint earlier in the movie.
That's an on point (break) reference
One of the best things about Tony's characterization is that he has a nickname for literally everyone he meets - Nebula's "Blue Meanie," Hawkeye's "Legolas," and Captain America is "Capsicle." But in The Avengers, he produces one of his best yet, calling Thor "Point Break," after the 1991 surfing/crime movie of the same name, starring Keanu Reeves and Patrick Swayze.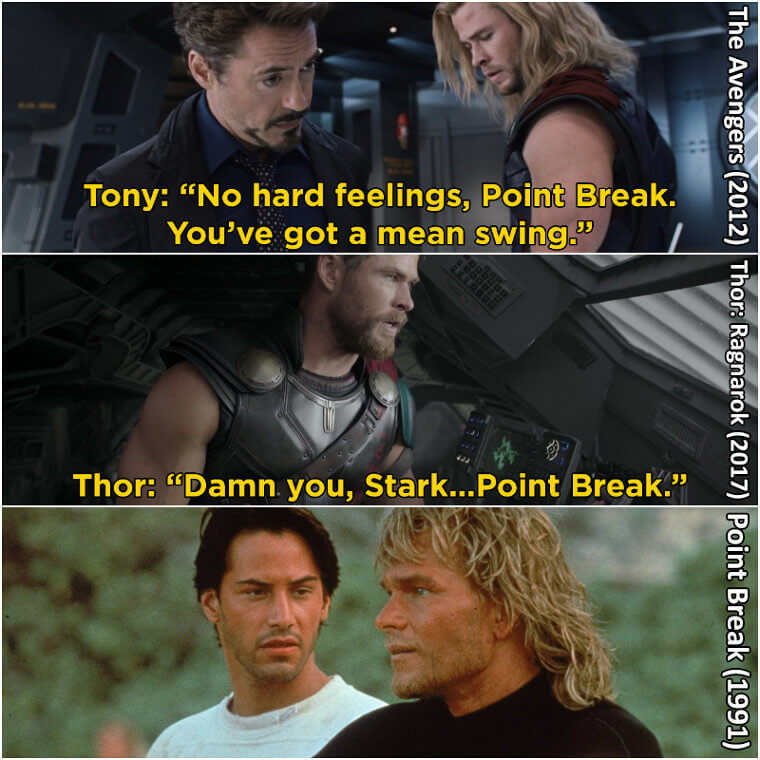 Just a funny throwaway gag? Have you met Marvel? Five years later, in Thor: Ragnarok, Thor learns that his own unique password to the Quinjet isn't "Thor Odinson" or "Strongest Avengers" (despite how much he wants it to be). It's... Yep, "Point Break."
Considering there are no coincidences in Marvel, Tony should've been worried
Peter Parker's always been a nerd - that's the core of the character. But Tony Stark's personal assistant-turned-CEO Pepper Potts most definitely is not. In Spider-Man: Homecoming, Peter rocks a punny T-shirt with a molecule complaining it "lost an electron" - and a friend asking if they're "positive."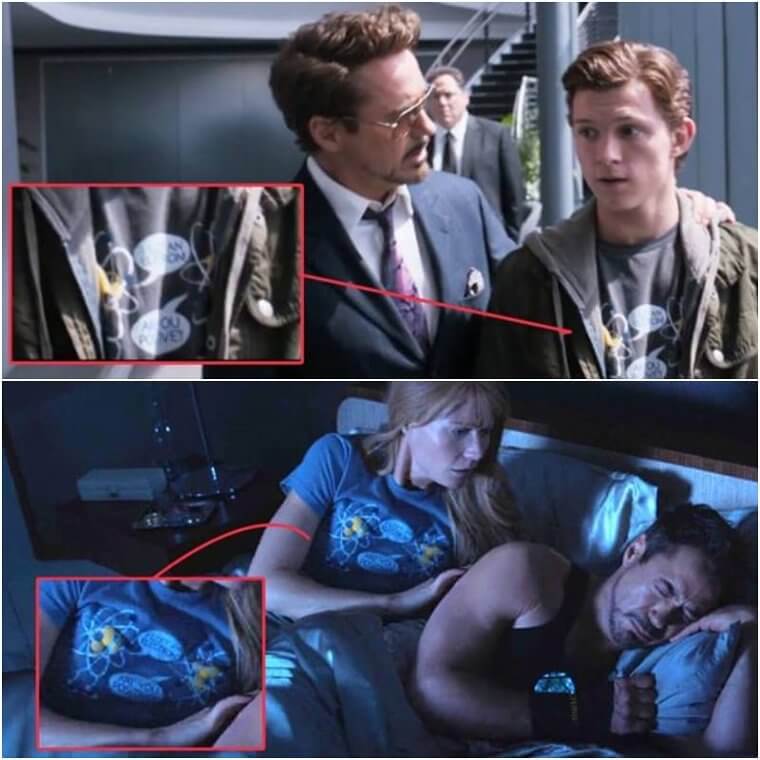 It's bad humor, it's science-y - totally on brand for Parker, right? Right, except that Pepper was wearing the exact same shirt in Iron Man 3 - while she was in bed with Tony, no less! So either Peter and Pepper shopped at the same place... or Pete's a bigger player than he seems.
A hard rocking musical callback
In Spider-Man: Far from Home, Peter puts together his own Spider-Man suit using Tony Stark's mobile lab aboard his private jet. While he tinkers away, Happy Hogan looks on with a small, knowing smile, no doubt remembering his late friend.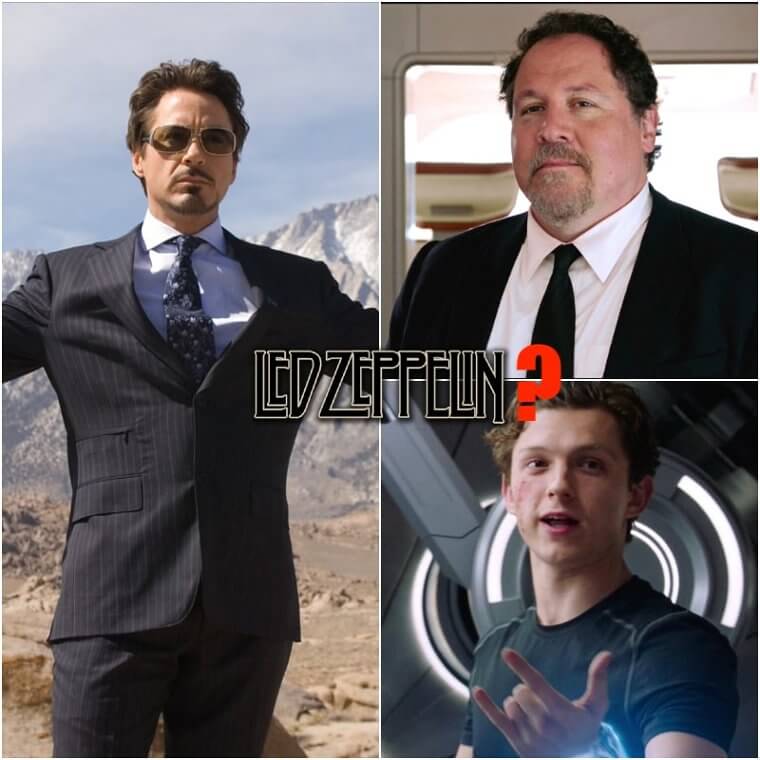 Then, he tells Peter he'll be in charge of the music, and starts blasting AC/DC's Back in Black. Every Marvel fan should recognize the tune - it played when Tony was in Afghanistan during the beginning of the first Iron Man. Peter, of course, doesn't, and tells Happy, "I love Led Zeppelin!" Ugh, Gen-Z.
Homecoming had the best make-up people
Spider-Man: Homecoming is all about continuity - a task it sorta trips over by pinning specific dates on important MCU events that don't completely add up. Screenwriting aside, other departments in the production simply excelled by showing just how connected Marvel's movies are.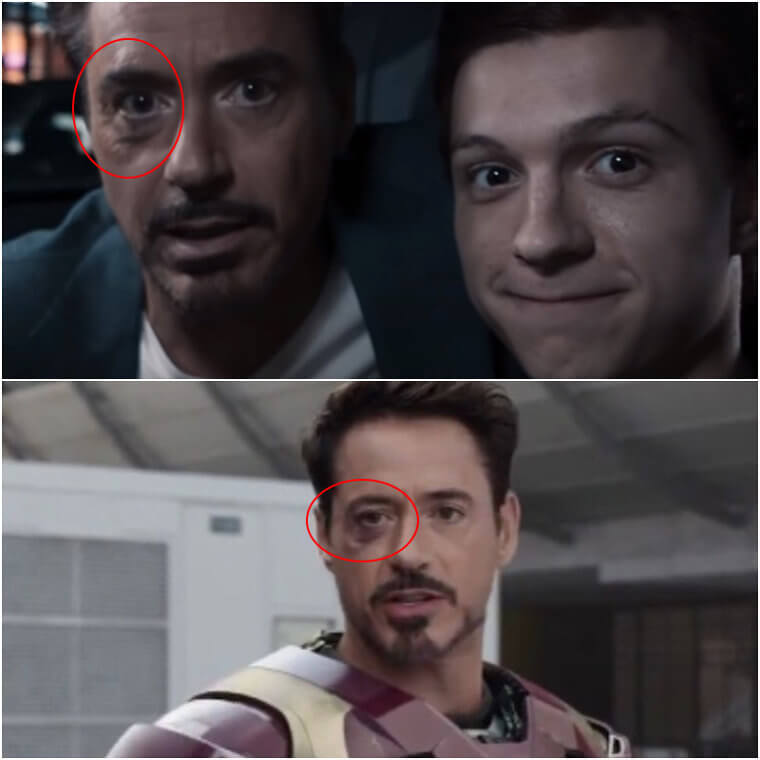 Remember that awkward conversation in the limo, where Peter goes in for a hug when Tony only wanted to get the door? So, if you look closely at Tony's face you'll see him sporting a shiner. It's the same black eye he received from Bucky in Captain America: Civil War, only it's had some time to heal. Now THAT'S attention to detail.
Endgame's ending came from the actors appearing in it
Marvel's movies have grossed $22.6 billion since 2008, and Avengers: Endgame itself was the highest-grossing film of all time. So obviously the whole thing was like a Swiss watch, right? Let's just say Jeff Bridges called the first MCU movie, Iron Man, a "$200 million student film," and things didn't improve.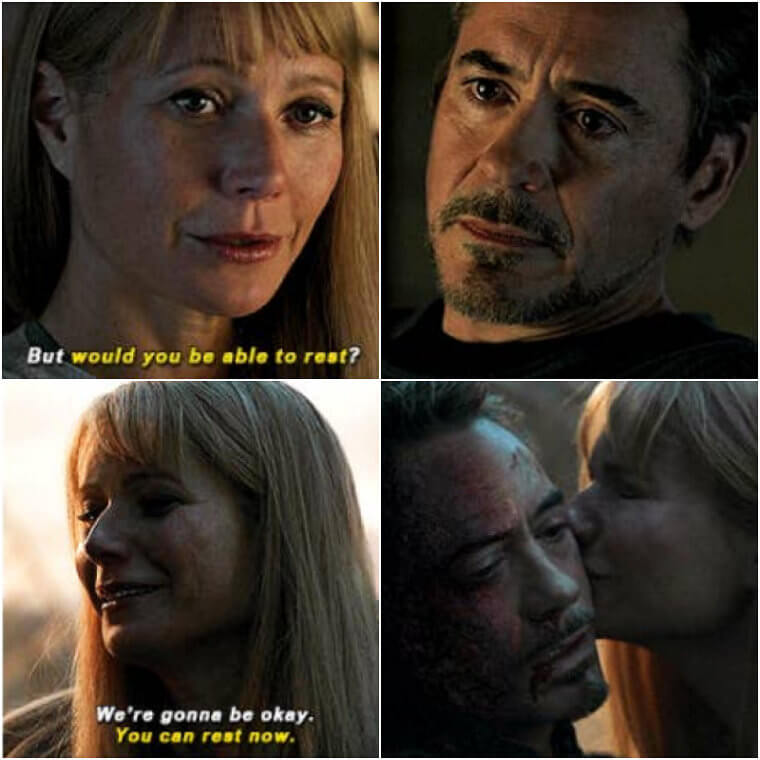 Besides only a handful of people being on-set to shoot Tony's final scene, there wasn't a script so much as a loose outline of what needed to happen, and actors like Robert Downey Jr. and Gwyneth Paltrow filled in the blanks with their years of experience inhabiting these characters.
A double Christmas Story whammy
Our two favorite Christmas movies are A Christmas Story and Die Hard, but unfortunately Iron Man can only be tied to the first one. Luckily, it can be tied to it twice! Second reference first - in Iron Man 3 Tony tells a kid with glasses who asked him for an autograph that he loved him in A Christmas Story, obviously alluding to the movie's main character, Ralphie.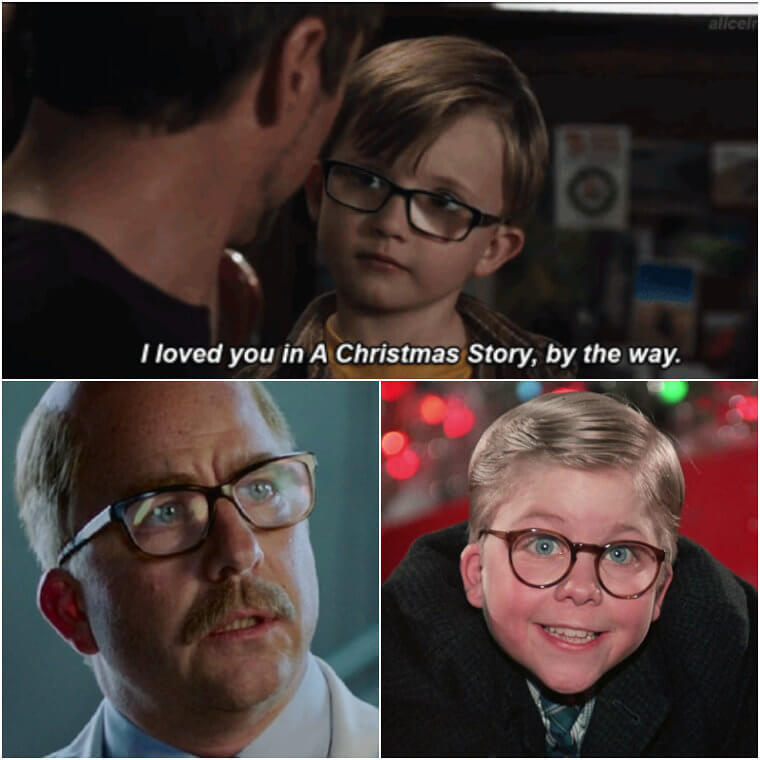 Now back to the first reference. In Iron Man, Ralphie's actor Peter Billingsley appears as a Stark Industries scientist who tries, and fails, to replicate the Arc Reactor - a role he reprised in Spider-Man: Far from Home.
The Avengers-Riverdale crossover literally no one asked for
Avengers: Age of Ultron, besides giving us probably the most underwhelming Marvel villain (and that's saying something), also debuted the iconic Hulkbuster armor, meant to help stop a rampaging Hulk. Early in the movie, Tony talks to Bruce about him constantly needing "Veronica" to look over his shoulder - which we later discover is code for the aforementioned armor.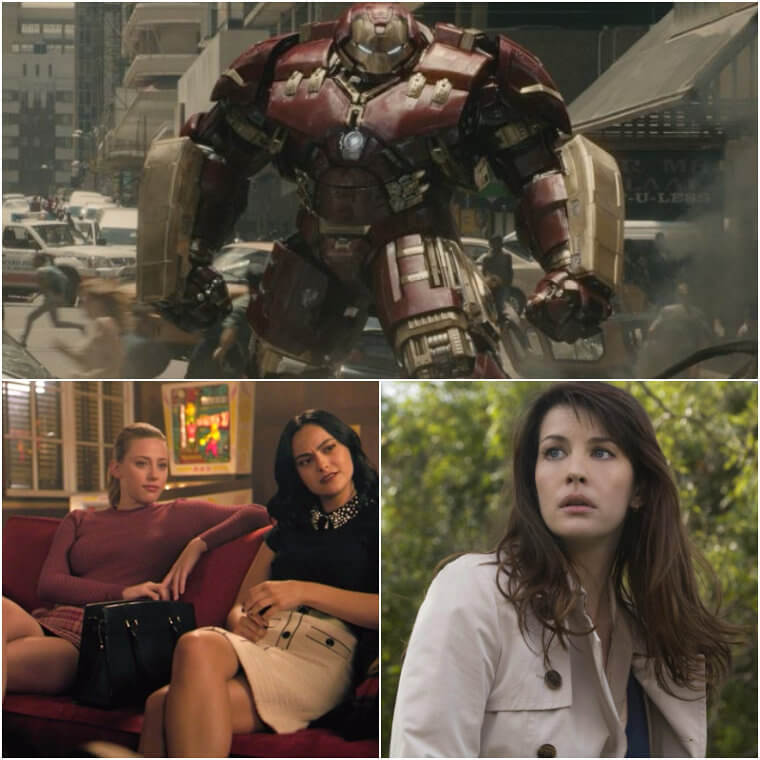 Why Veronica, though? Well, as writer-director Joss Whedon revealed, and Mark Ruffalo claimed to have suspected, it's an Archie Comics reference. Hulk already had a Betty to calm him down - meaning Betty Ross, his The Incredible Hulk love interest. So why not a Veronica, Betty's polar opposite?
Pepper wasn't the only thing close to his heart
We don't think any MCU love story has resonated as much as Tony and Pepper's has. It's not just the oldest one - it's also one of the more developed and engrossing romances, with Pepper going from just a gofer to the new CEO of Stark Industries - and the love of Tony's life. Iron Man 3 beautifully reflects that.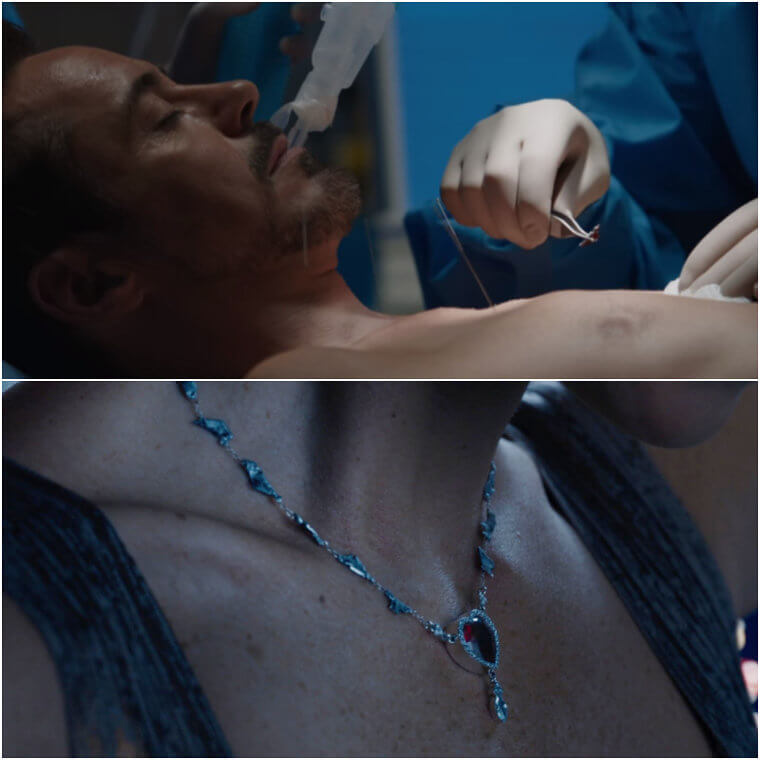 In the epilogue, Tony undergoes surgery to finally extract the shrapnel from Afghanistan from his chest. One scene later, he gives Pepper a necklace. If you pause the movie, you'll see it's made from the exact same pieces of shrapnel, signifying how close to Tony's heart Pepper really is.
He really is a cool exec with a heart of steel!
Much like Marvel would do for Spider-Man nearly a decade later, the original Iron Man also paid homage to a previous animated adaptation by way of musical cues. However, while the animated Spidey theme is iconic ("Does whatever a spider can" is one of the best lines in any medium), we're not sure anyone remembers The Invincible Iron Man from 1966.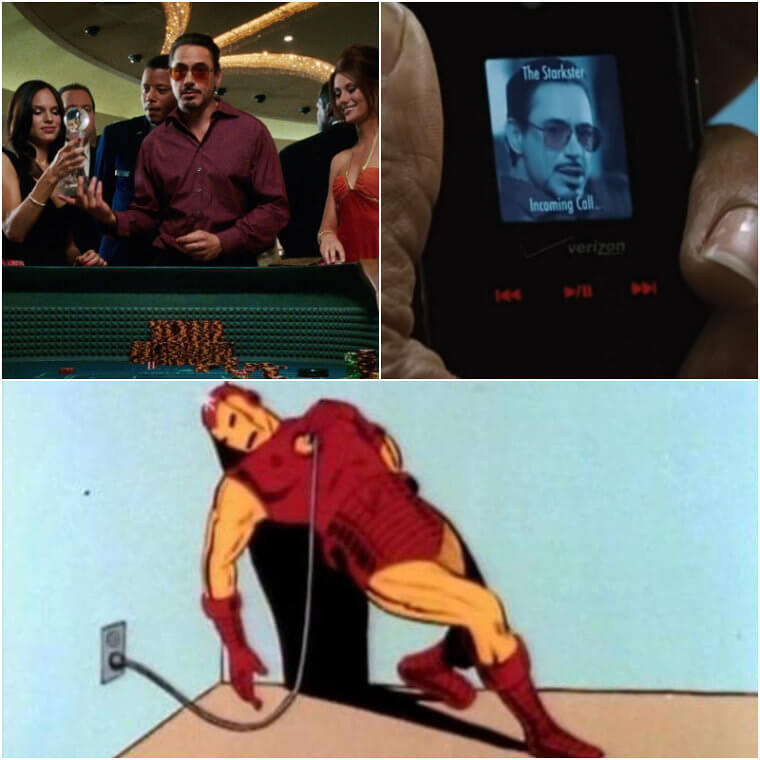 "He's a cool exec with a heart of steel" doesn't have quite the same ring to it... but Marvel remembered its first foray into TV. You can hear interpretations of the not-so-iconic theme when Tony's in the casino, and then again as Rhodey's ringtone.
Turnabout IS fair play, it seems
Right before Tony holds his cinematic universe-defining "I am Iron Man" press conference at the end of the first movie, he can be seen reading a newspaper with a grainy, amateurish-looking photograph of Iron Man on the cover. If you wondered how such a terrible photo got onto a multimillion-dollar movie, wonder no more.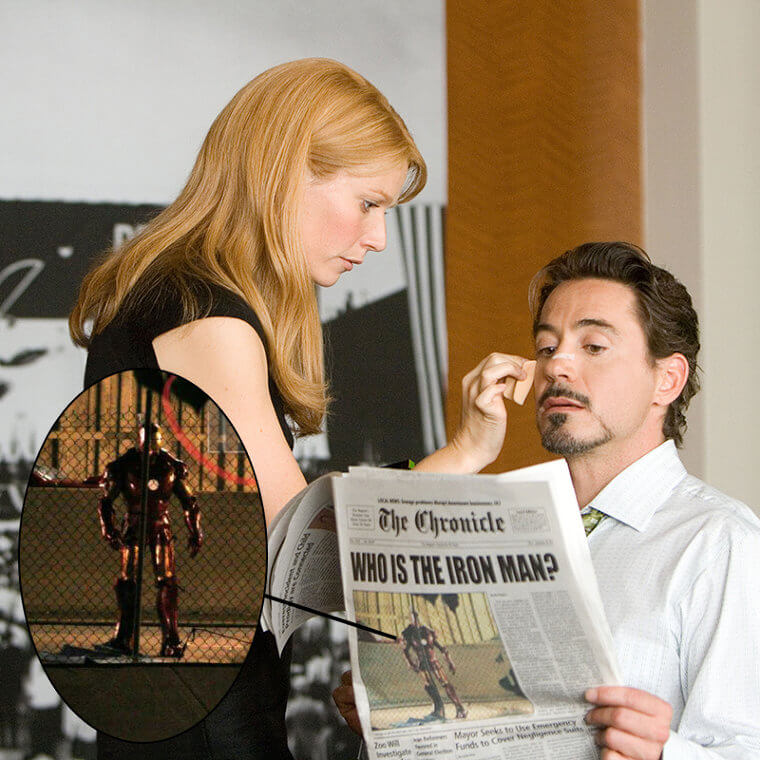 If it looks amateurish, it's because it was - it was taken from a video some fan snapped on the set while hiding in a bush. What's hilariously ironic is that Marvel originally sued the website that published it, only to get sued itself for using that still image from it in the movie!
All the publicity Burger King would never want
When Tony returns to the U.S. in Iron Man after deciding to quit selling weapons, his first request is a Burger King cheeseburger. This isn't a cheap plug. Well, okay, it isn't JUST a cheap plug. It's also a cute nod by Robert Downey Jr. himself to a life-changing moment from 2003. He was sitting in his car, which was full of various illegal substances, eating Burger King takeout.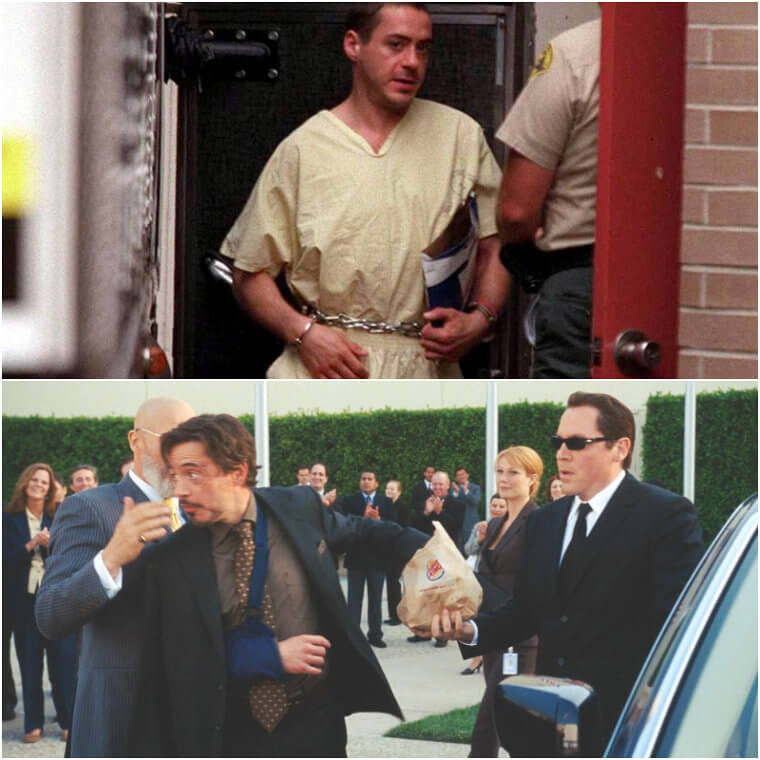 The burger was so gross, he recounted, that he decided right there to clean up his act. RDJ inserted that scene to mirror Burger King saving his life, though they probably weren't thrilled with the whole "disgusting burger" part.
Two extremely deep cuts for music nerds
The first Iron Man contains not one but two classical musical easter eggs. First, there's the scene where Tony returns home to find his business partner Obadiah Stane there playing his piano. If you listen closely, there's a hidden hint to Stane's villainy. Specifically, he's playing 18th-century composer Antonio Salieri's Piano Concerto in C major.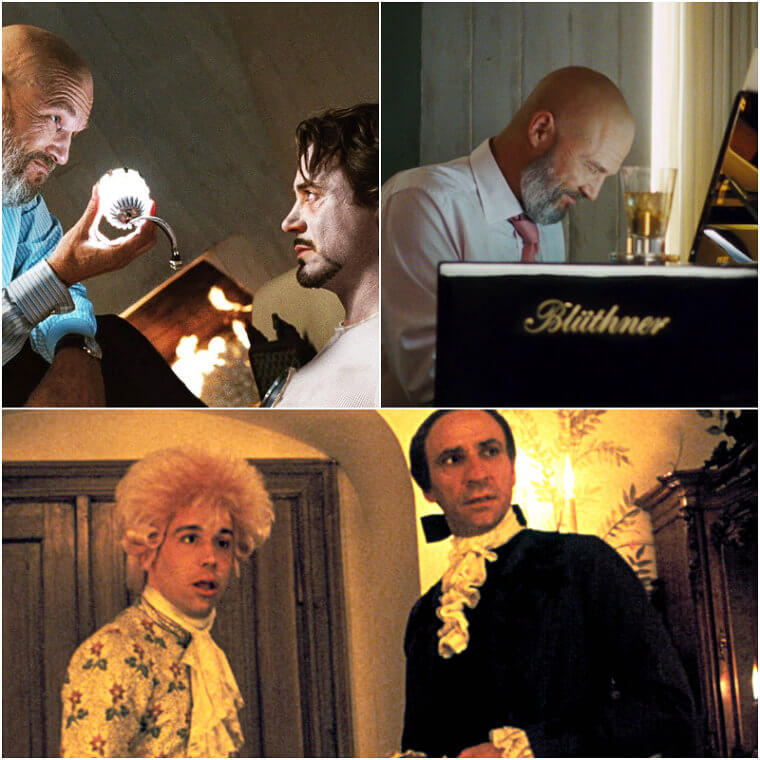 Salieri, of course, was the supposed jealous rival of Wolfgang Amadeus Mozart, and some say he conspired to have him killed. The second musical easter egg is Stane telling Tony the Arc Reactor's his "ninth symphony" - alluding to the belief that after a composer writes their ninth symphony, they die.
Tony Stark sits on a throne of lies
We can't decide whether we like Jon Favreau better as an actor or a director. Luckily, the original Iron Man didn't make us choose because it had him pulling double duty, both as director and as Tony's bodyguard/chauffeur Happy Hogan. Now, we don't wish to point any fingers, but he probably used that clout to drop a reference to his previous double-duty smash hit.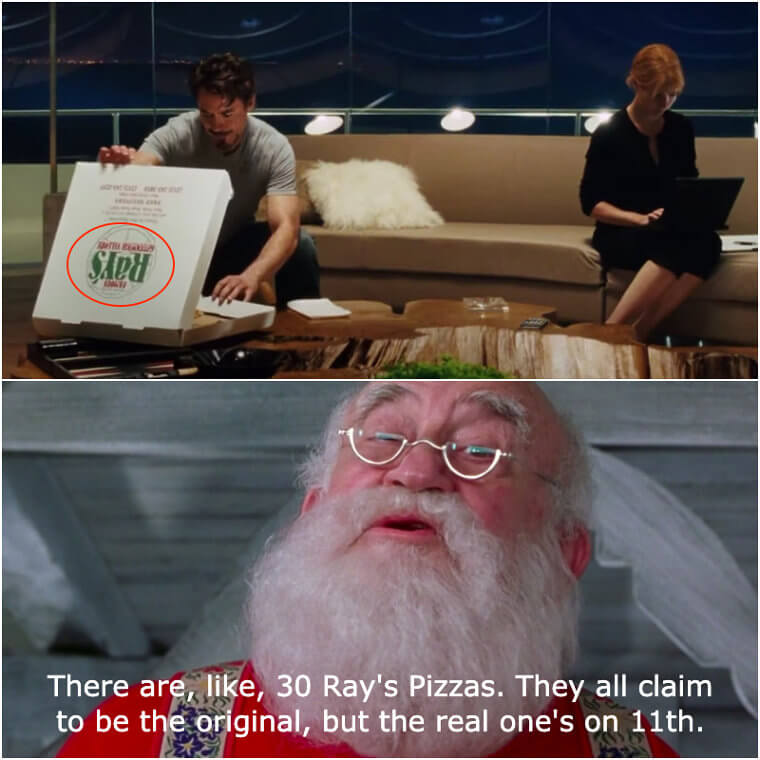 When Stane comes back from New York City, he brings Tony a box of Ray's Pizza. Any fan of Favreau's 2003 Christmas classic Elf knows "there are 30 Ray's Pizzas. They all claim to be the original. But the real one's on 11th."
Tony's the worst procrastinator ever
In the first Iron Man, we learn Tony attended the Massachusetts Institute of Technology, where he graduated at the top of his class at only 17. It was also where he first met James "Rhodey" Rhodes, who'd go on to become War Machine. There's another MIT-related detail in that movie, though, that'd pay off years later.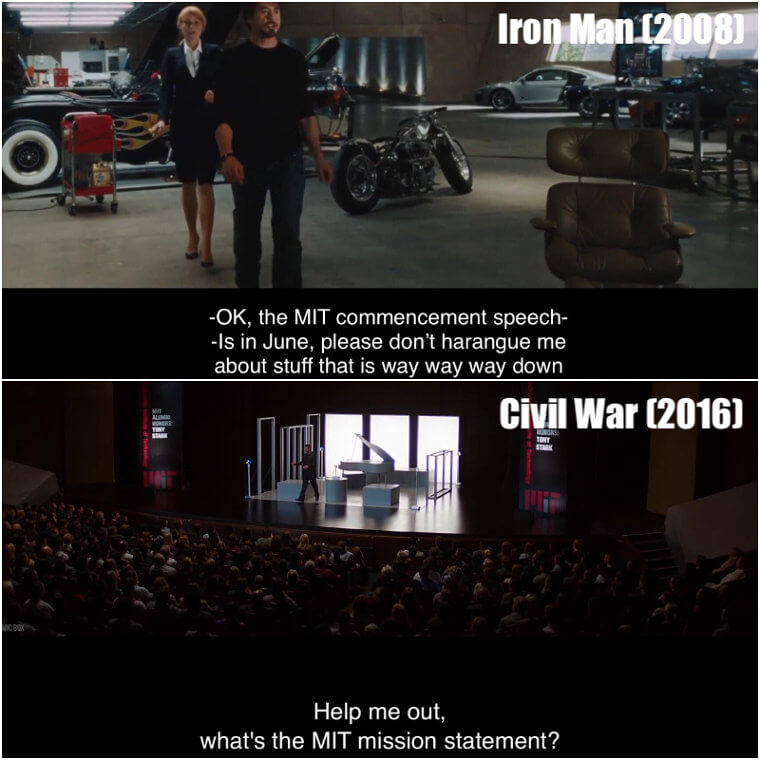 When we first meet Pepper Potts, she runs a few things by Tony, including a requested MIT commencement speech that he claims is way too far ahead to bother him with. Turns out Pepper was right - he only got around to giving that speech in Captain America: Civil War, eight years later.
Do as Tony says, not as he does, we guess
Peter Parker's whole thing is being a wisecracking nerd. His... talents in the field are on full display in his first official MCU appearance in Avengers: Infinity War. Besides talking about "That really old movie, Empire Strikes Back," Peter also name-drops Ridley Scott's Alien when he's on Ebony Maw's Q-Ship with Tony and Doctor Strange.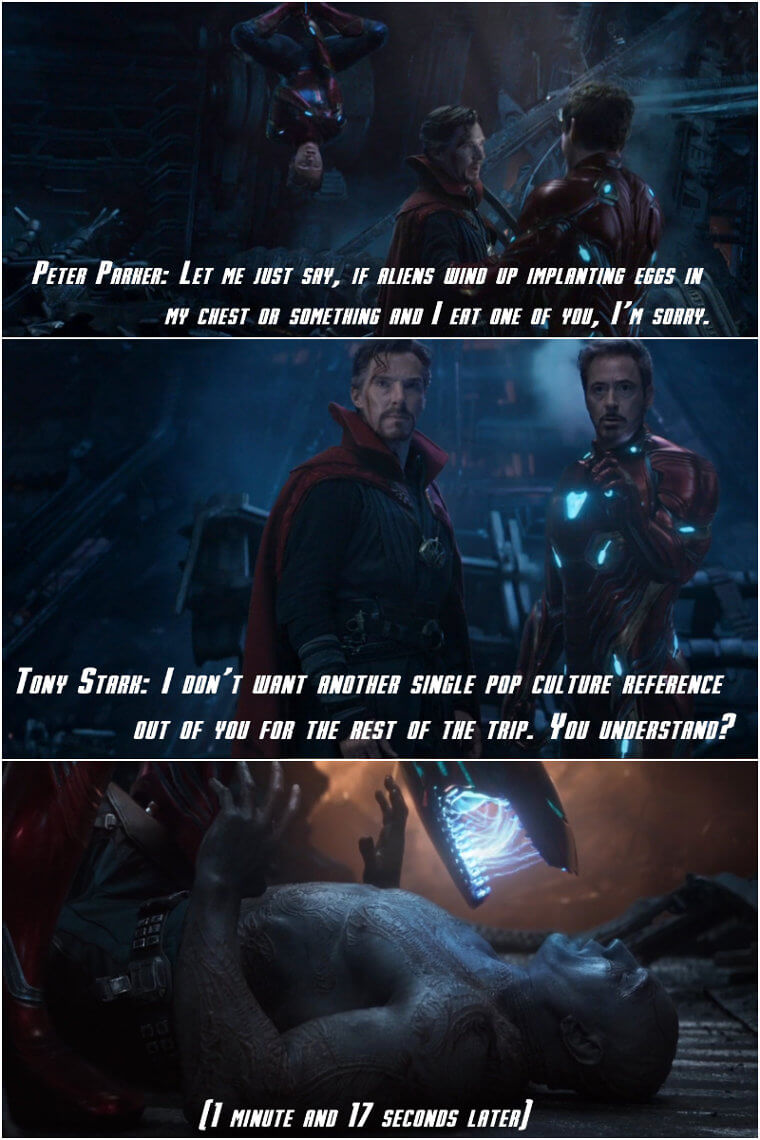 If aliens end up implanting eggs in his chest and he eats somebody, Peter says, he apologizes. A fed-up Tony then says he doesn't want another pop culture reference from him for the rest of the trip... before pulling a very familiar-looking gun on Drax. What happened to your rule, Tony?
Justin Hammer - the MCU's idiot savant
We still think about Sam Rockwell's Justin Hammer from Iron Man 2 sometimes. While his "store brand Tony Stark" shtick is completely underwhelming as a villain, he also happens to be the sequel's best character. Case in point, his weapons sales pitch to Rhodey. Hammer goes off on a long, absurd monologue about how great his weapons are.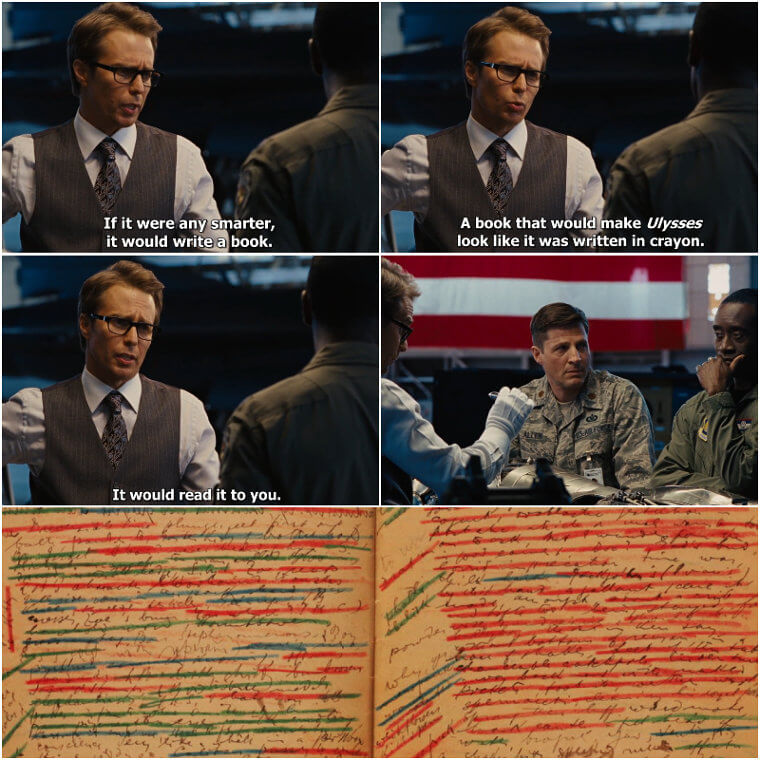 The last one pitched is the "Ex-Wife," a bullet so smart that if it was any smarter, it'd write "a book that'd make Ulysses look like it was written in crayon." The easily-missed joke here is that James Joyce's Ulysses WAS partially written in crayon, because Joyce's eyesight was incredibly poor.
An easter egg with 20/20 vision
When Paul Bettany first joined the MCU, he had no idea he'd one day be physically appearing in it as Vision. Instead, he joined as Tony's voice-only A.I. J.A.R.V.I.S. (Just A Rather Very Intelligent System), who was pitched to Bettany by Jon Favreau as a "robot with no personality." While he was still disembodied in Iron Man 3, though, his upcoming transformation was teased.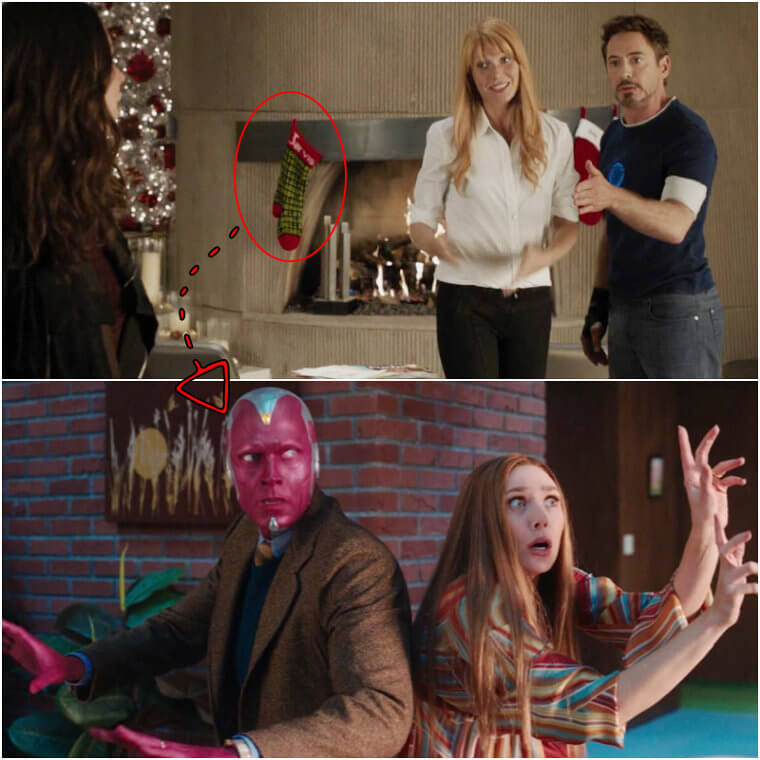 During a scene when Tony, Pepper, and Maya (Rebecca Hall) are in Tony's living room, a stocking saying J.A.R.V.I.S. hangs from the mantle. It's red and green - Vision's color scheme. See that design? It's actually binary, and it says "Merry Christmas."
Eh, he knew it was something with a "C"
Leslie Bibb, who can now be seen in another superhero drama - Netflix's Jupiter's Legacy, appeared in Iron Man and its sequel as Vanity Fair reporter Christine Everhart. While doing a spread about Tony, she ends up... well, doing a spread WITH Tony. We apologize, that's gross. Nevertheless, the two do end up spending the night together.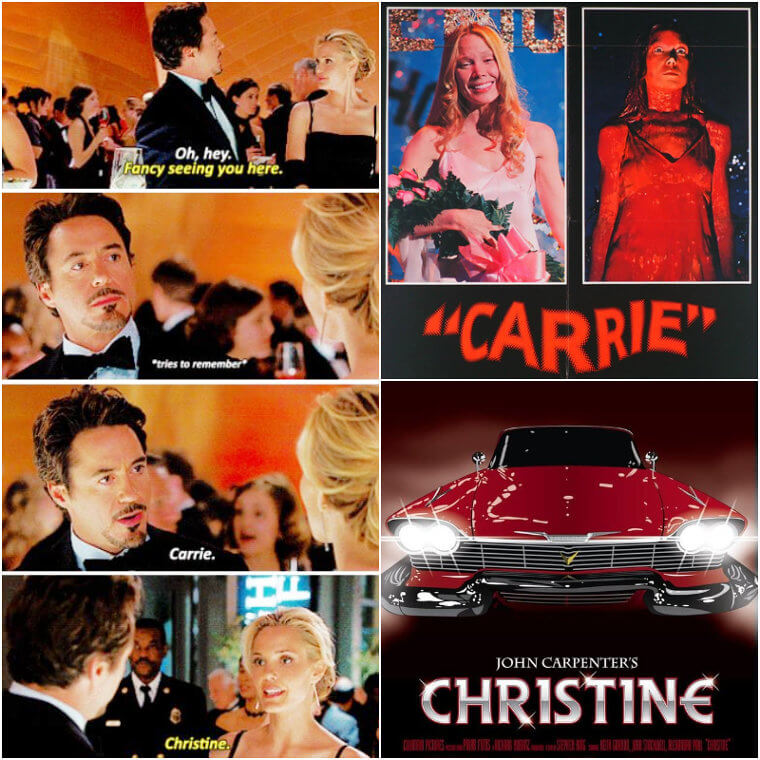 Unfortunately, it didn't mean quite so much for Tony, as when he encounters her in Iron Man 2 he thinks her name is "Carrie." Stephen King fans probably hooted at that one, as both Carrie and the lesser-known Christine are King novels that were later adapted to movies.
Is... Is that Atlantis?
At the end of Iron Man 2, Nick Fury and Tony talk about the Avengers Initiative. Put aside their witty banter for a moment, though, and take a look around at the room they're occupying. It's filled with holographic maps, with circles around activity related to potential Avengers, such as Thor, the Hulk, and... Namor?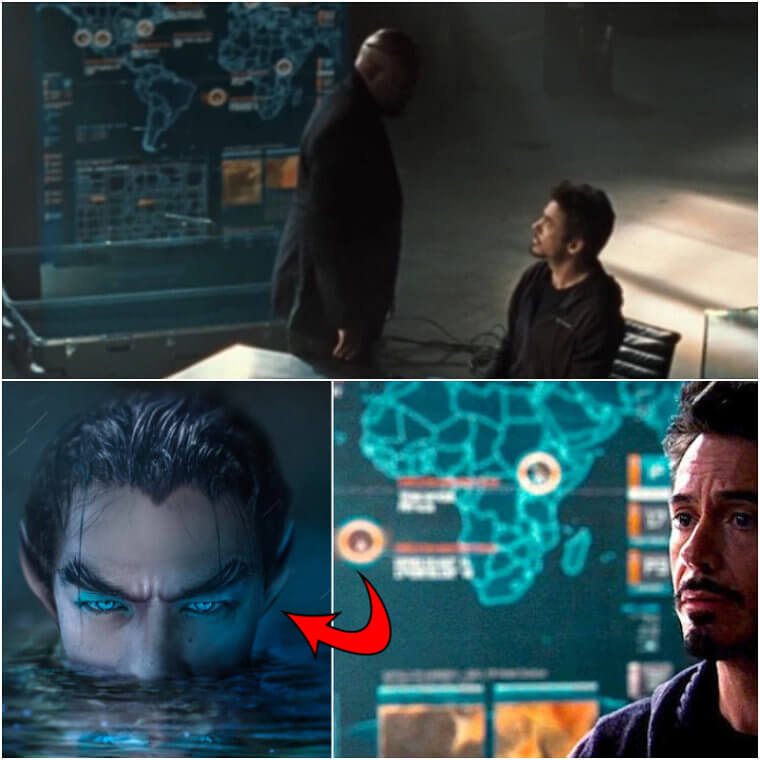 Yes, one scene shows a circle around a central African country - obviously Wakanda, though Black Panther was still years away at that point. Just off the coast of Africa is another circle in the middle of the ocean - likely referring to one of Marvel's first superheroes, Namor the Sub-Mariner.
We thought Howard looked familiar...
While he cast a long shadow over him since the first movie, Tony's father Howard Stark first appears on-screen in Iron Man 2. Played by Mad Men's John Slattery, Tony watches footage of his dad presenting his City of the Future project for Stark Expo. If the whole thing seemed vaguely familiar, it really should have.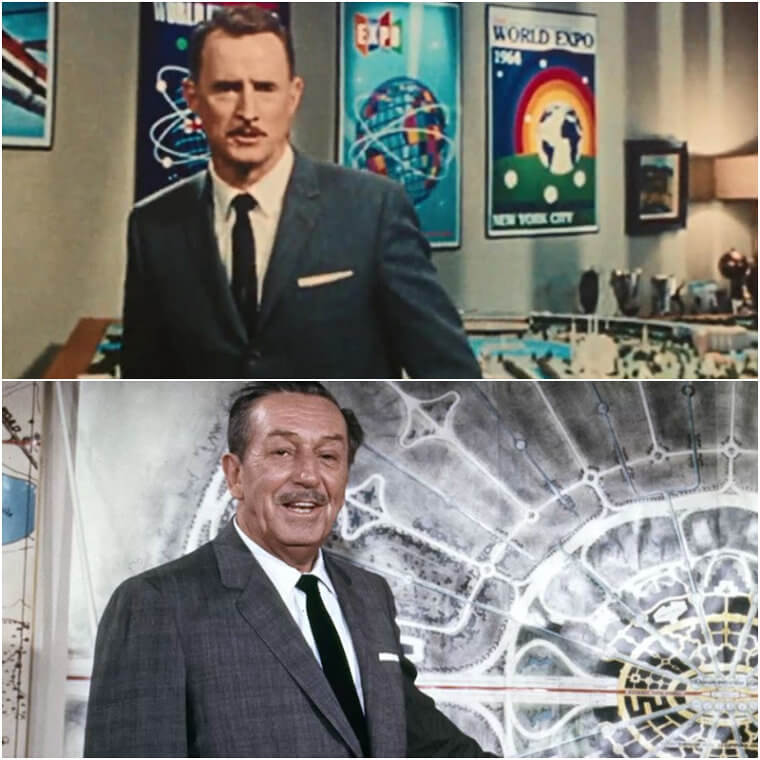 Slattery's performance, as well as the presentation itself, are modeled after Walt Disney's 1966 pitch for EPCOT, or "Experimental Prototype Community of Tomorrow." You might scoff at this seemingly shameless pandering, but Disney only actually bought Marvel AFTER shooting for Iron Man 2 wrapped.
Even the movie feels awkward about this
Some important Marvel characters, like Nick Fury, have been with us since 2008's Iron Man. Others are still around as well... but they look pretty different. Take Tony's best friend, Colonel James "Rhodey" Rhodes. He also debuted in Iron Man, and is also still alive post-Endgame.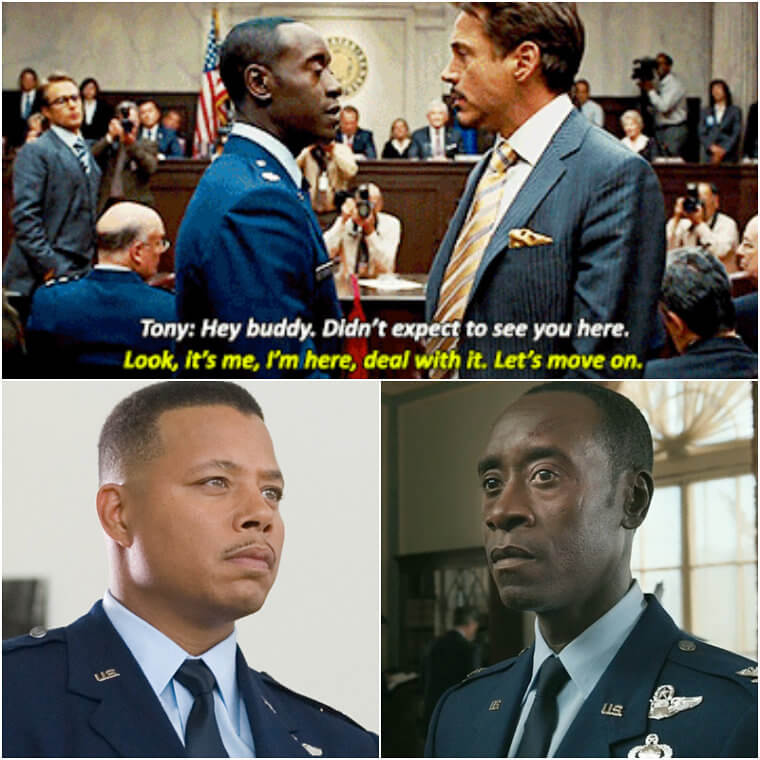 However, while he was played by Terrence Howard in his first appearance, Don Cheadle took over for every subsequent appearance. The first time he shows up in Iron Man 2, Cheadle makes a meta-joke about this switcheroo. When Tony's flabbergasted to see Rhodey at his hearing, he says, "It's me, I'm here, deal with it" - to both Tony and the audience.
Bet Tony didn't know his dad was a comic book guy
In Iron Man 2, when Tony looks for a solution to his palladium poisoning problem, S.H.I.E.L.D. sends him a package of his late father's personal effects. Contained therein is the film reel that would eventually lead Tony to discover the new element that will help cure him.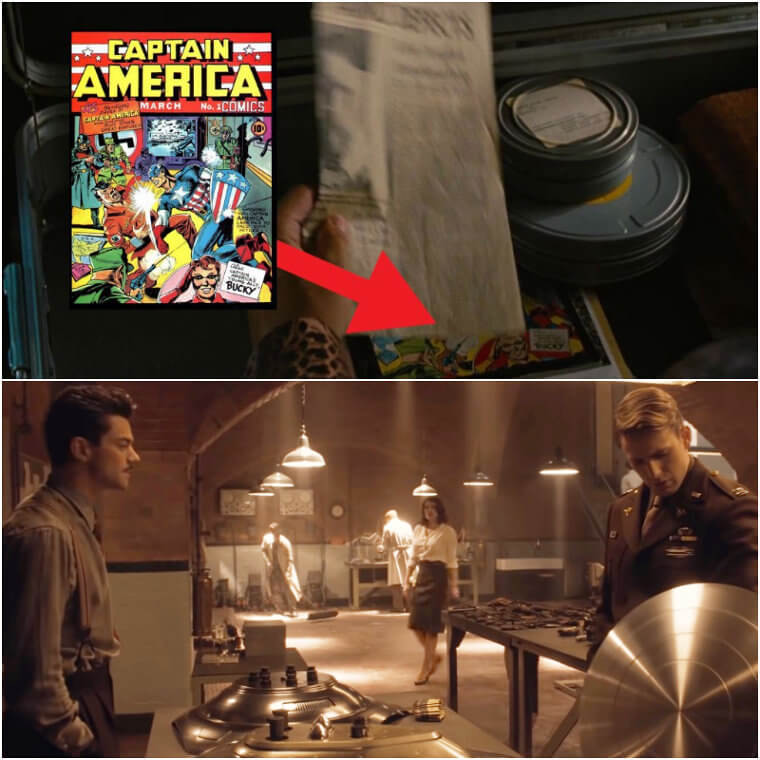 But if you pause and look hard enough, you'll see Howard Stark also owned a copy of Captain America Comics #1 from 1941. The issue is Cap's first appearance in the comics in our world, but it's also kind of funny, because Howard not only knew Steve Rogers but also crafted his indestructible shield.
Fin Fang Whom?
While Marvel's shared universe is just a fact of life today, in 2008 it was everything but guaranteed. Nevertheless, Marvel still hedged its bets for the future by including little easter eggs for other properties, like a prototype of Captain America's shield showing up in Iron Man or the Super Soldier Serum being used in The Incredible Hulk.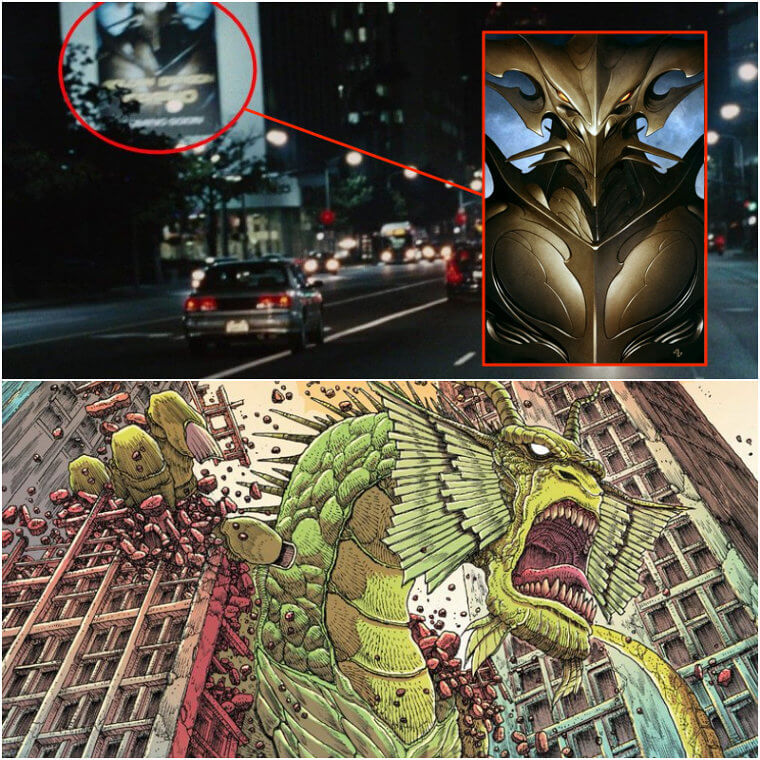 Likewise, Iron Man contains an even quicker reference to a huge villain - literally. While Tony's out driving, a billboard visible for a second shows frequent Hulk antagonist Fin Fang Foom. The dragon-like creature's image is, in fact, taken from an actual comic... written by Iron Man director Jon Favreau.
Shred him once, shame on S.H.I.E.L.D.
If there's anything that puts Marvel's movies head and shoulders about the Distinguished Competition (sorry, Zack Snyder fans), it's world-building. It's not just having one overarching plot spread across several movies - it's sprinkling little details that show that people actually live in this world, they're not just there when we watch them.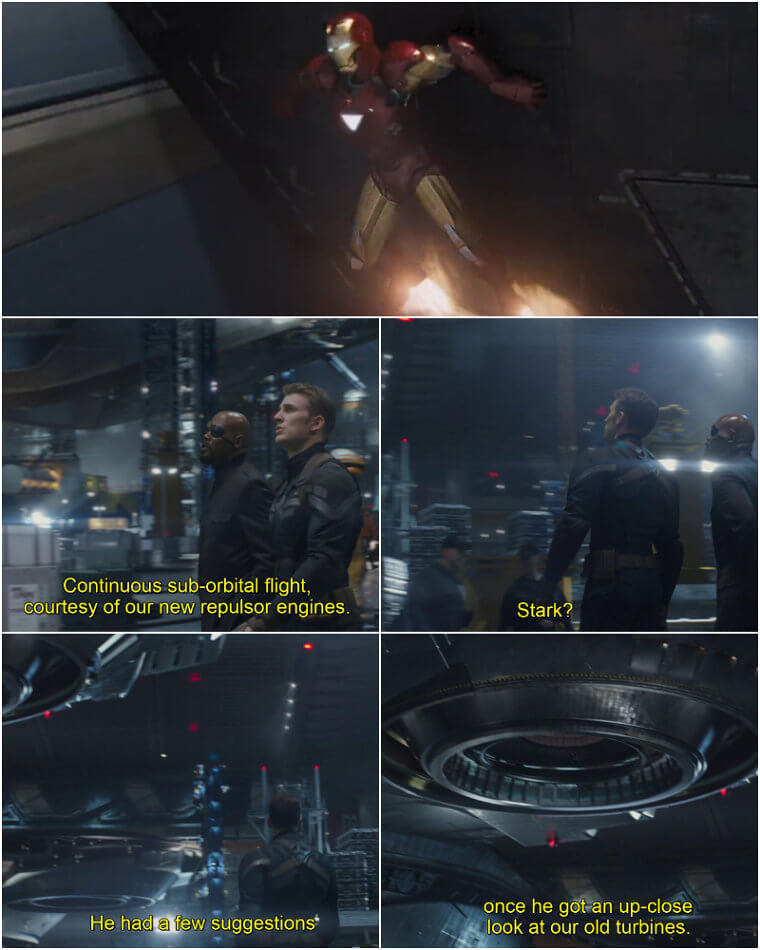 For example, in The Avengers Tony gets sucked into the turbine rotors of a S.H.I.E.L.D. helicarrier, severely damaging his suit. Then, in Captain America: Winter Soldier, Nick Fury gives Cap a tour of a S.H.I.E.L.D. facility and shows off a helicarrier with rotor-less turbines, which Tony designed after the previous incident.
Be honest, you'd do it too
What would it be like meeting one of the most famous people in the world? In our boring, drab reality, it might be meeting George Clooney or Brad Pitt. In the MCU, it's definitely meeting Tony Stark, who's not just a bona fide superhero but also one of the richest and most recognizable men on the planet.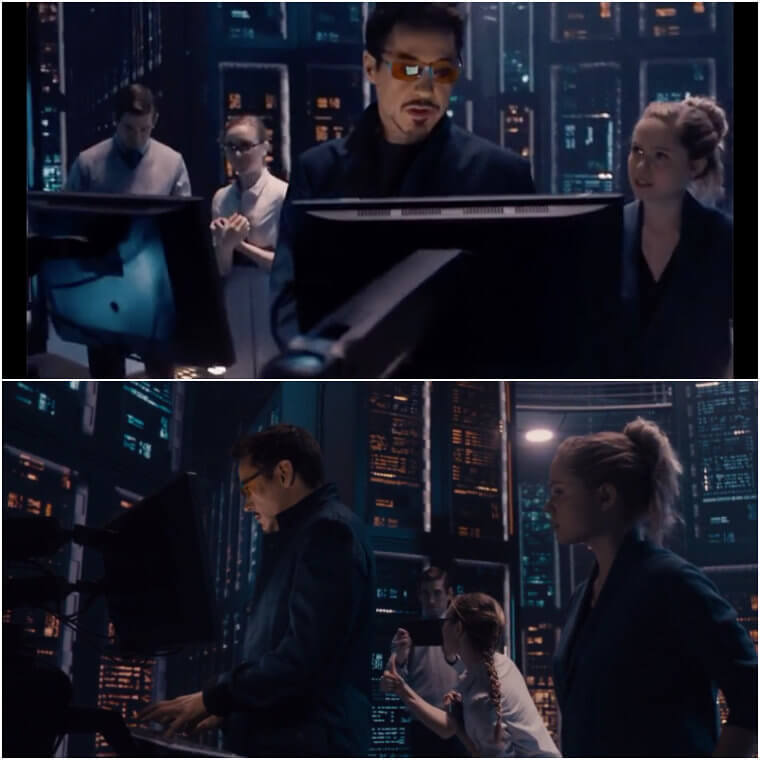 Avengers: Age of Ultron doesn't keep us guessing, as it gives us a second-long glimpse on how average people might react. When Tony visits the NEXUS Internet Hub in Oslo, Norway, one intern in the background of the scene has her friend snap a photo of her next to Iron Man.
Rage Against the (War) Machine
We're pretty sure anti-establishment metal band Rage Against the Machine wouldn't be big fans of a billionaire industrialist like Tony Stark, but that hasn't stopped their guitarist Tom Morello from playing ball with him. One of rock's greatest guitar players, Morello's apparently an Iron Man fan as well, as he provided licks for the soundtracks of both Iron Man and its sequel.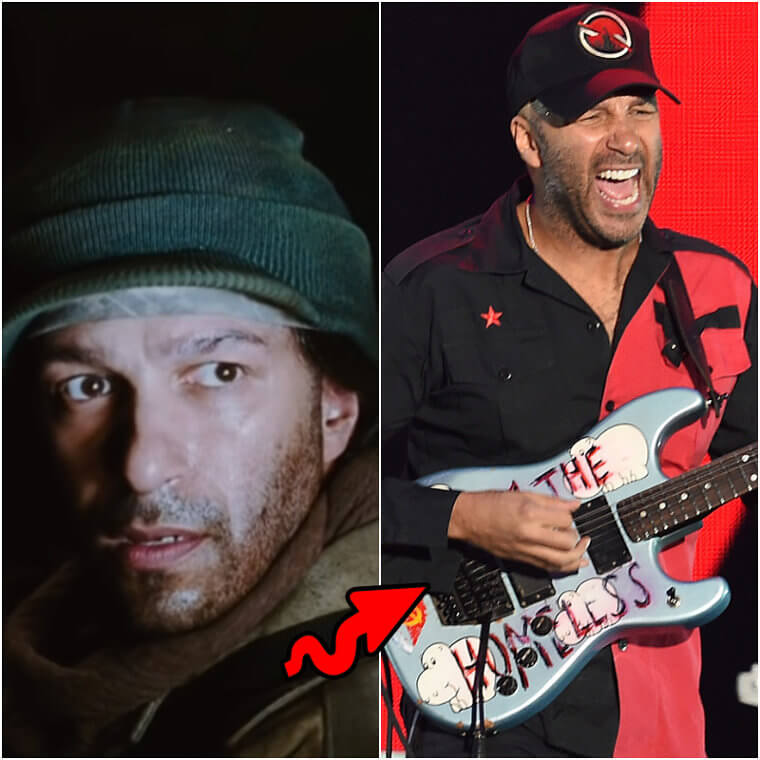 Here's the interesting thing, though - he ended up supplying the riffs to his own smackdown, as literally the first Ten Rings terrorist Tony beats up after donning the Mark I armor is... Tom Morello, in a blank-and-you-missed-it cameo.
The real heart of the team
Despite his reputation as a careless industrialist, Tony Stark does in fact have a heart - and Pepper Potts seems to think so too. At the end of Iron Man, she gifts him a small replica of the Arc Reactor that's keeping him alive in his chest, with the engraving "Proof Tony Stark has a heart."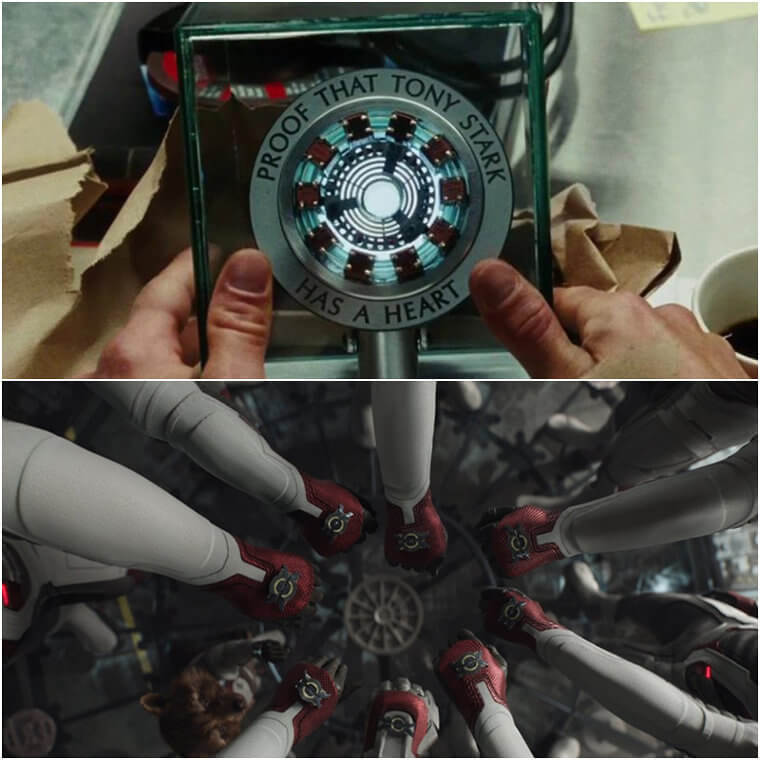 Tony's entire subsequent character arc involves growing his humanity, and culminates in the ultimate sacrifice in Avengers: Endgame. In that movie, when the Avengers assemble for the Time Heist, they put their fists together before departing in a clear visual recreation of Tony's gift from 11 years prior.
The Mark I armor ran on Lego firmware
Here's one that's as inconsequential as it is fascinating. Right at the beginning of Iron Man, Tony and Ho Yinsen collaborate to create the Mark I suit in a cave in Afghanistan. As there's something of a time crunch involved, considering Ten Rings terrorists are about to swarm their chamber, they have to work fast.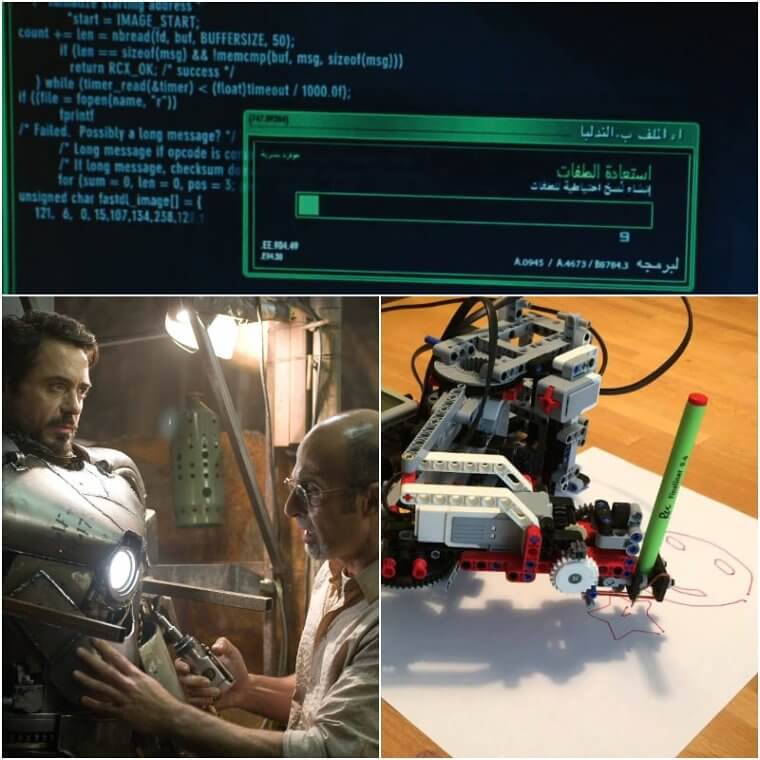 Yinsen's in charge of booting up the armor, giving us a brief glimpse of some code running on a computer. It's meaningless for most people, except for the dude who recognized it as code in C, a popular programming language, for uploading firmware to a Lego Mindstorms RCX controller.
Cool as those are, they're hand-me-downs
We certainly don't need to point out that Spider-Man: Far from Home heavily featured the pair of super high-tech sunglasses containing the Edith system. Possession of said glasses is, after all, the crux of the movie's plot. Here's what you might not have noticed, then - the glasses, which Tony gifts to Peter Parker, have already made MCU appearances.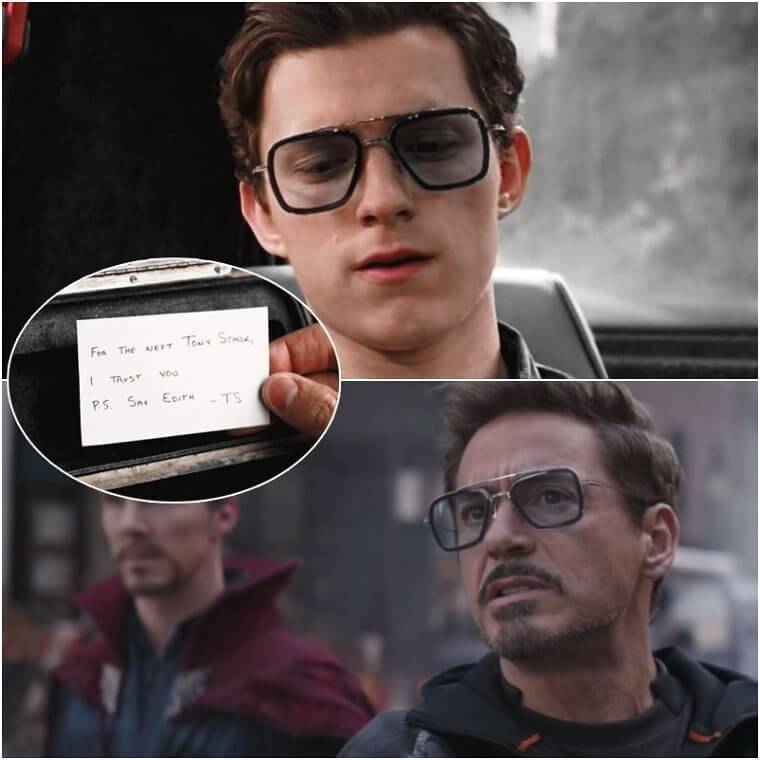 Tony could be seen wearing them in both Avengers: Infinity War and Endgame, which creates a nice bit of continuity with previous events. The Edith system IS new, though, so presumably it's a late upgrade that Tony added at some point.
Hey, RDJ worked really hard on those!
Iron Man 3 rounds out the trilogy of Tony's standalone movies pretty controversially, by turning iconic villain the Mandarin into a joke. Nevertheless, you can at least comfort yourself with one scene having a pretty good real-world gag that sort of breaks the movie's universe.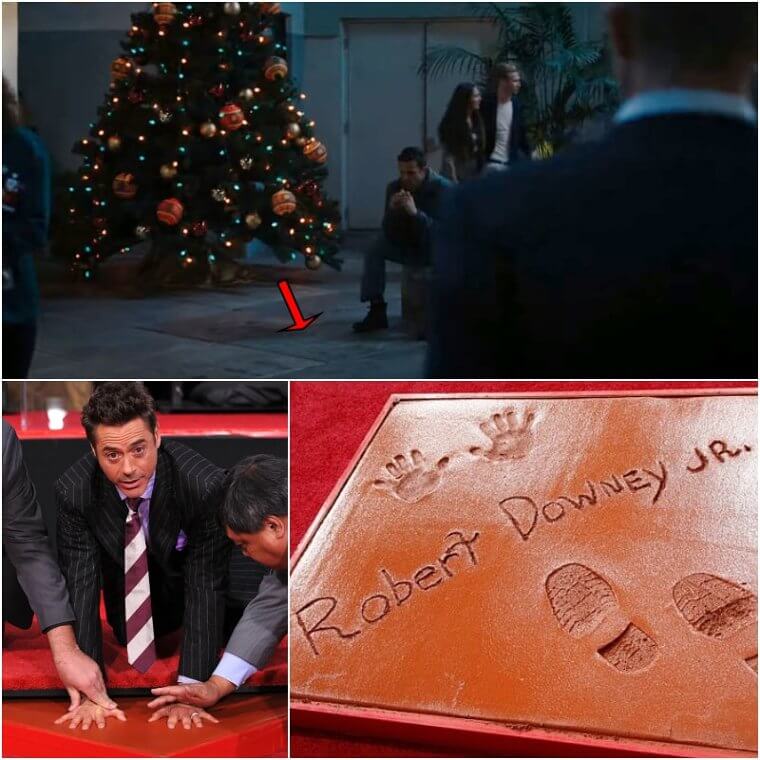 Remember how Tony called Thor "Lebowski," after The Big Lebowski, despite the fact that the movie's star Jeff Bridges also starred in the first Iron Man? So, Iron Man 3 has a scene where a would-be villain sits outside Grauman's Chinese Theatre in Los Angeles... right next to spot where Robert Downey Jr. left his hand and footprints in 2003.